Reduce Your Average Support Time with PaceKB Knowledge Base
Make a comprehensive and powerful knowledge base for you, your team, and your customers. Eliminate confusion, reduce friction, elevate experience, and minimize support time. Deliver round-the-clock customer support without hassle with the help of PaceKB.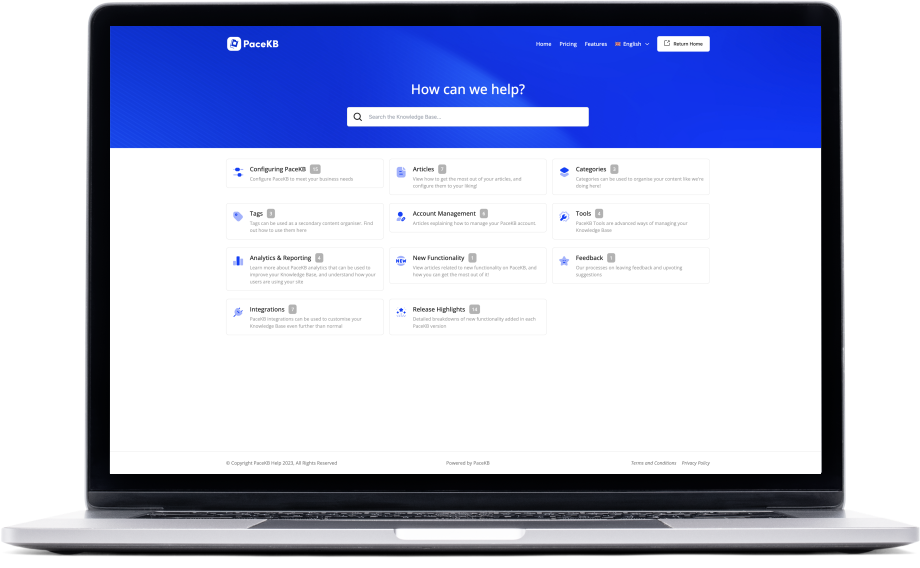 PaceKB Features and Highlights
PaceKB combines the essentials and helpful supplementary functions into one powerful and easy-to-use knowledge base platform. Here are some of its features and benefits.
View on Any Device
Access your knowledge base seamlessly across various devices, ensuring your support resources are available on desktops, tablets, and smartphones, enhancing user convenience and accessibility.
Easily Search Articles
Effortlessly locate relevant articles using PaceKB's intuitive search function, enabling customers and support teams to quickly find solutions and answers to their queries.
Analytics & Forecasting
Gain valuable insights into user engagement and trends with built-in analytics, allowing businesses to make informed decisions and anticipate support needs for better resource allocation.
Experience Speedy Updates
PaceKB is dedicated to providing the best experience for you and your customers, so we provide regular and speedy updates to elevate your experience.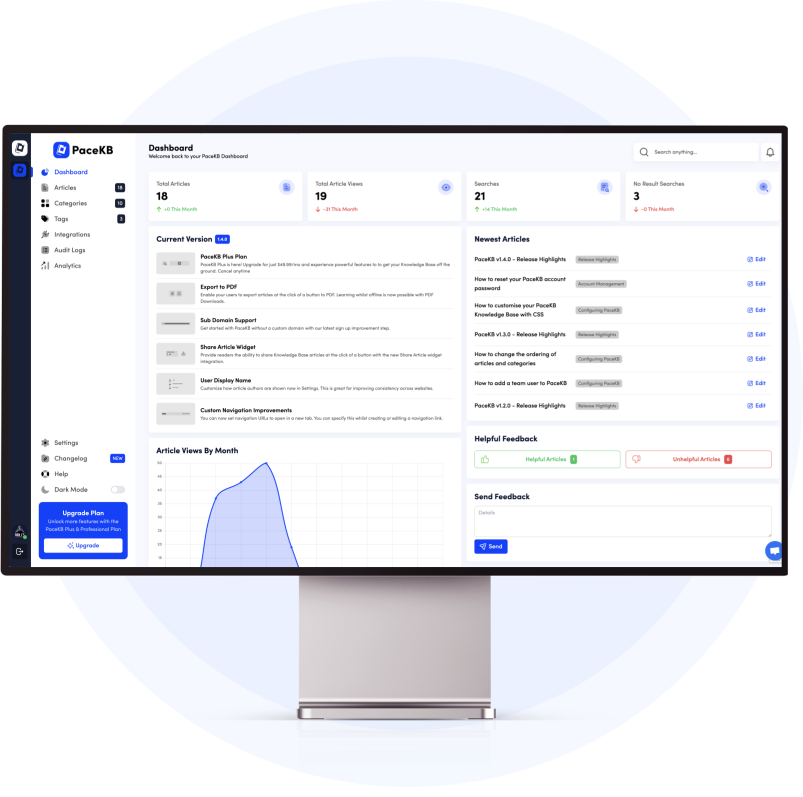 Affordable Fixed Cost
Benefit from budget-friendly pricing with a fixed cost structure, eliminating surprises and enabling businesses to allocate resources effectively while enjoying comprehensive knowledge management.
Search Engine Optimized
Drive organic traffic to your knowledge base with built-in search engine optimization (SEO) features, increasing the visibility of your support content and attracting a broader audience.
No Hosting Required
Streamline your implementation process as PaceKB handles hosting, relieving businesses of technical burdens and allowing them to focus on delivering exceptional customer support experiences.
White-Label Knowledge Base
Maintain brand consistency and professionalism with a white-label solution, tailoring the knowledge base's appearance to match your company's unique branding for a cohesive customer experience.
Get Started in 3 Simple Steps
Creating your knowledge base shouldn't be a complicated process. With PaceKB, we made everything effortless so you can start yours within the next hour. Here's how:
Set Up a PaceKB Account
Create your free PaceKB account and start setting up your brand and business information
Save Your Most Frequently Asked Questions
Create your article based on your customers' most frequently asked questions.
Point Your Customers to Your New Knowledge Base
Direct your customers, employees, and partners to your new knowledge base.
Start Free and Scale as You Go
Starting with PaceKB has never been easier. With our free plan, you can get started with all the essentials and scale up as your business grows. Enjoy a streamlined setup process, article creation for up to 25 articles, quick and relevant updates, and technical support without hidden costs or contractual obligations.
No credit card required

Free forever, no strings attached